A New Era In Compact Fire Detection
Compact, versatile and cost effective, SmartCell has myriad premise applications and supports up to 64 devices.
Learn More
Think Wireless Is Expensive? Think Again…
SmartCell is the newly developed "smart" fire system designed for smaller properties and SME's.
Supports up to 64 Devices
Smoke and heat detection capability
Fully certified
Sign up for updates on how SmartCell can help you
SmartCell is built on decades of EMS technology and know-how.
Leading experts in wireless technology since 1967.
Discover more about EMS
SmartCell Puts You In Control
SmartCell, an innovation in wireless fire detection, powered by EMS technology.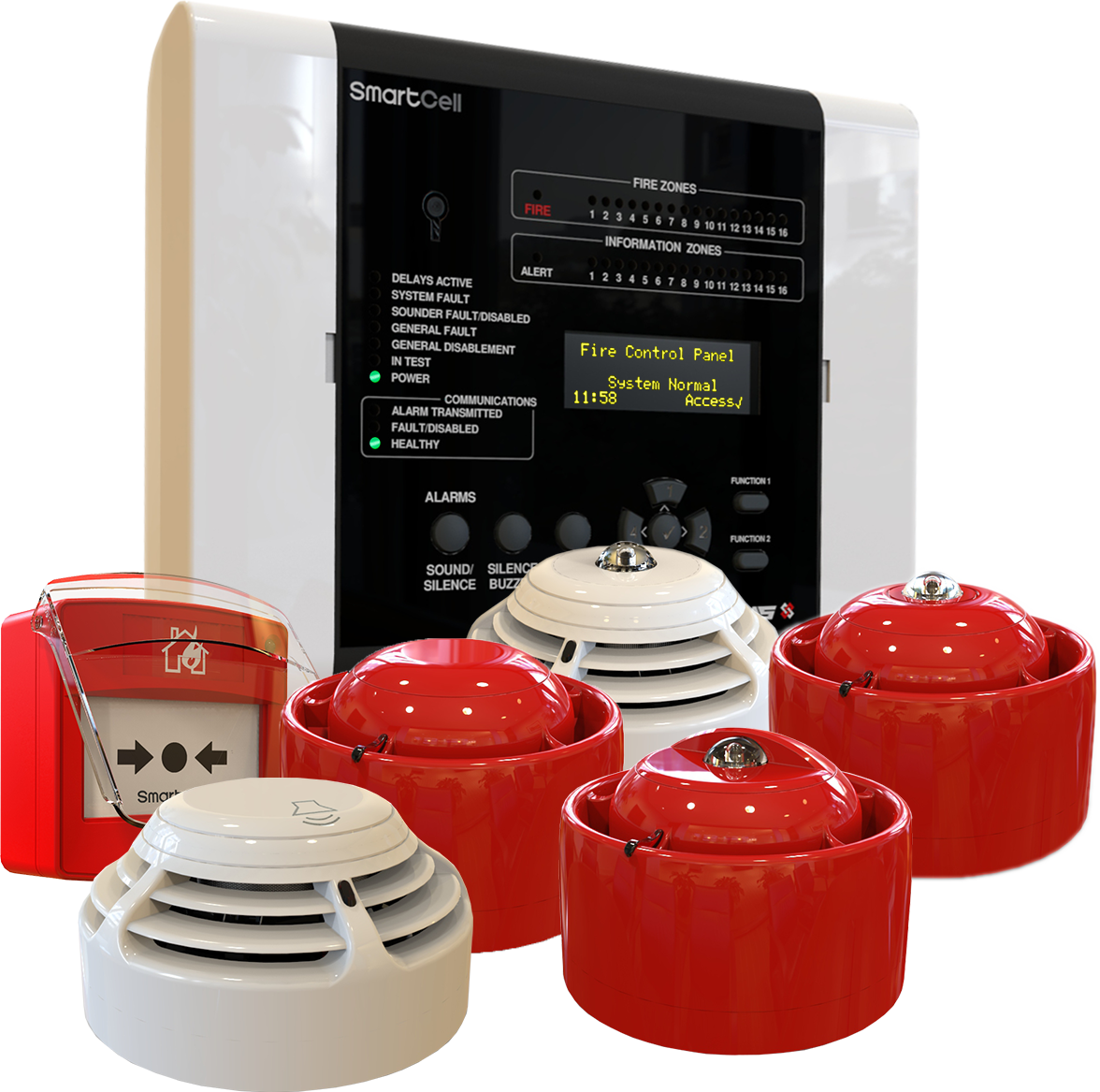 High Speed Installation

Simple, quick and easy installation avoiding disruption to businesses ​or residents.​
Take & Play

Reusable and flexible system for when a building's use or occupation changes or grows.​

Remote Monitoring

Optional "plug-in" communications PCB module including on-board SIM and Ethernet connectivity. ​
SmartCell works using patented and unique technology
Each SmartCell wireless combination sensor has both smoke and heat detection, fully customisable to meet specific local requirements, a sounder with 32 tones and an EN54-23 visual alarm indicator (VAD). What makes SmartCell "Smart" is the wide range of choices you have to make each device fit your building. Volume changes for the sounder, sensitivity for the detection and the ability to switch each element on or off depending on what's needed. But "Smart" does not stop there, as the entire system can be accessed from anywhere, the same room, the same building, or wherever you or your service provider is located.
Learn more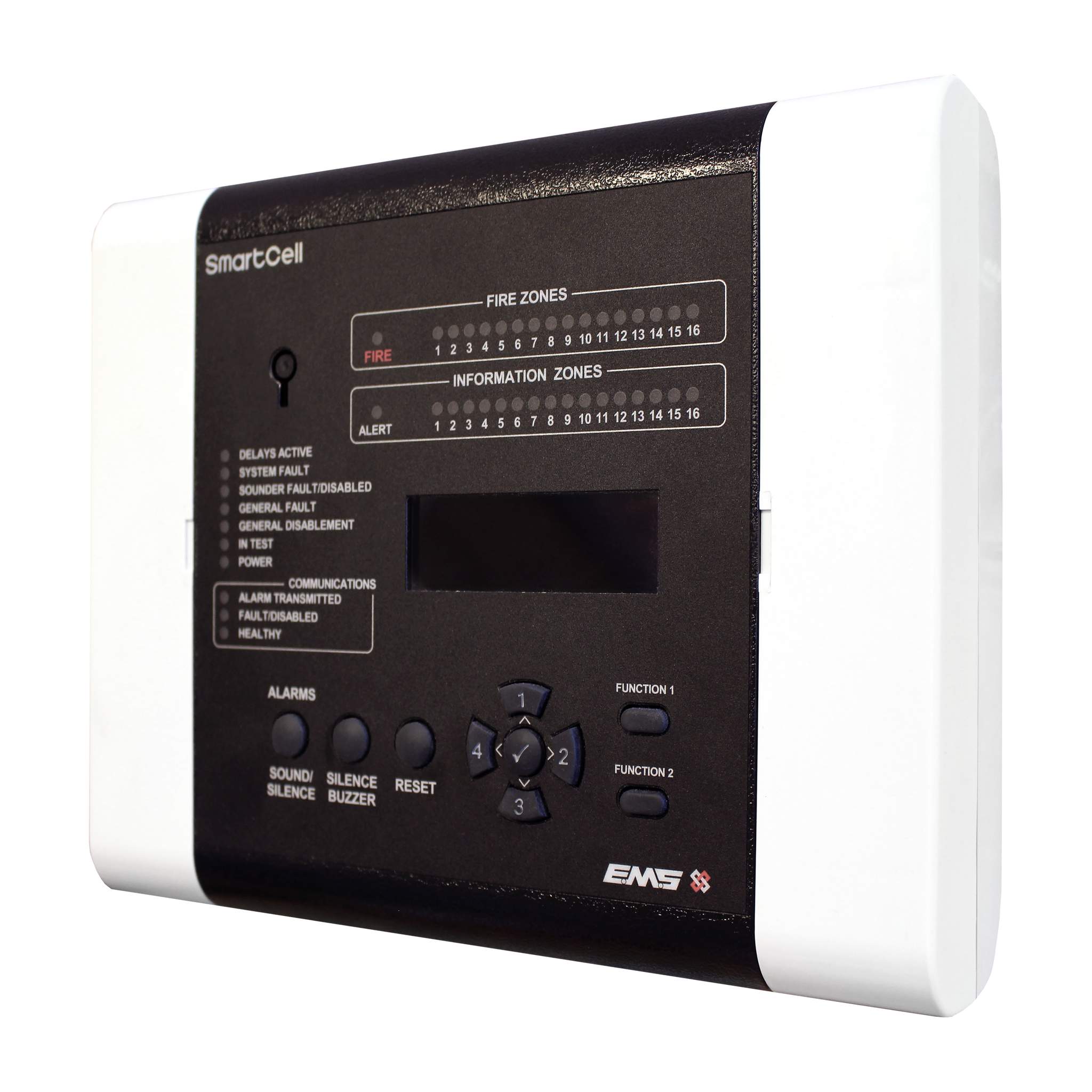 What is so different about SmartCell, and why would I choose this fire system?

SmartCell has been designed and developed based on what customers have been asking for. EMS have been at the cutting edge of wireless development for nearly 60 years, and is acknowledged as the leading authority on wireless fire technology. Using this knowledge, SmartCell was developed to meet customer and industry demands for a low cost, but powerful wireless fire system. In addition to meeting these requirements, EMS added a whole raft of additional features making SmartCell so much more than just a fire system. With reliability at the centre, and usability being key, SmartCell is a fully connected fire system using both the internet and a SIM card to communicate. With texts and emails generated as and when any activity occurs, you are fully in touch at all times. Add the functionality of connecting non-fire products wirelessly, such as CO gas or flood detection or perhaps mains failure devices, and you can be connected, wherever you are.

What sort of wireless is used?

To comply with all standards, specifically EN54-25, the wireless transmission must be robust and reliable. The standardised European frequency, used for wireless fire systems, is 868 MHz. SmartCell uses a number of channels, within this frequency, to ensure all elements of the system are connected making it as reliable, as if it were connected by a cable. Any changes or issues and SmartCell switches almost instantaneously to a different channel. It is not wi-fi, its not affected by other wireless products or inference from any other fire or security system.

Is SmartCell fully certified to all relevant EN54 standards?

SmartCell has been designed to meet all the latest EN54 standards across the entire product range. This includes each specific product element, for example, EN54-7 for detection devices, as well as EN54-25, the wireless fire alarm standard.

What is EN54-25?

This European Standard specifies specific and rigorous requirements, test methods and performance criteria for components used in fire alarms systems, which use wireless (RF links) to communicate. The standard specifically states that a wireless fire system should be, at least as good as a wired equivalent, if not better. This ensures that a SmartCell system is 100% reliable if correctly designed and installed

What about batteries, are these not expensive?

Another mandated requirement under EN54-25 is battery life. This standard dictates that batteries in each and every device, detector, call point sounder etc. must last at least three years. Once any battery becomes depleted a fault warning is immediately indicated on the panel giving exact information on which device has a low battery. There must also be at least 30 days warning of complete failure giving the user plenty of time have new batteries installed. Installing new batteries is simple and straight forward, taking a maintenance service provider no more than 5 minutes to complete the change. Replacement batteries are freely available from many sources, at a relatively modest cost, and are the widely used in many products.